This is one of my new interests, thanks to Art Educator & Neurographica® Instructor ASMITA GUPTA.
First in Biology classes, later in Neuroscience, I learnt the following:
NERVES THAT FIRE TOGETHER, WIRE TOGETHER.
Dr. Joe Dispenza helped me understand this further:
NERVES THAT NO LONGER FIRE TOGETHER, NO LONGER WIRE TOGETHER.
When we form new habits, we create new synaptic connections. With repetition, these connections become stronger. When the old connections are longer in use, they slowly die out from a lack of
nourishment.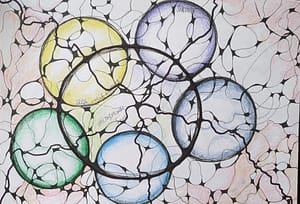 To me, this NEUROGRAPHIC ARTWORK has come at a stage of intense anamnesis and a strong want to create a new 'ME', SAJNI 2.0, if i want to put it that way.
It's a process of UNFIRING AND UNWIRING, REFIRING AND REWIRING. I believe this is a long and gradual process. Nevertheless, it's a possibility.