I am Sajini Ponmala. I am a registered Homeopathic practitioner, living and practising Homeopathy in the UK.
Early life & education:
I was born in Kerala (popularly known as God's own country), India but brought up in the neighbouring state of Tamil Nadu. I completed my secondary education from RSK Higher Secondary School. RSK was located in the serene & green BHEL Township of Tiruchirapalli, TN state. My father worked for Bharat Heavy Electricals Ltd ( BHEL ). I believe I grew up as an active child with a strong mind. I was interested in singing, long distance cycling and spending time with nature. I further completed my graduation in Zoology from SRC, Trichy.
Passion in my late teens:-
I had a group of progressive friends, young girls & boys, who dreamt to become and do something different. We registered ourselves as a government organisation under the name, 'Friends of Humanity(FOH)'.
FOH visited surrounding villages doing social service, educating kids and running medical camps with the support of other organisations like the LION's club. This, we would do at weekends and on holidays. Looking back, this was not something kids at that age normally did at that time or even today. In retrospect, I think it was such a positive, collective energy put to good use.
Introduction to Homeopathy and Homeopathic Education:
My belief in Homeopathy stems from early childhood after being treated by a popular Homeopathic Doctor in Trichy. Dr.A.Balaji, as he was called, treated me for tonsillitis and an obstinate eczema. He was known to my father and treated most members of the family. Recently, I came to know from my dad that Dr.A.Balaji's father was also a homeopathic practitioner and had treated my mum for some of her complaints in the past.
My parents are originally natives of Kerala and that made me eligible to write the state entrance exam for the BHMS course.
My father Mr.K.Ponmala, for whom I have the utmost regard has always been a fair and just person. It seems like he has influenced most of the decisions in my life either directly or indirectly. He insisted that I study at the Govt.Homeopathic Medical College, Calicut because of it's relevance in Homeopathy. I did secure admission through the state entrance exam.
Government Homeopathic Medical College, Calicut :- my alma mater!
GHMC Calicut has the reputation of being the first graduate Homeopathic Medical College in Asia, founded in 1976. The attached  homeopathic hospital with 100 beds and 6 outpatient sections offered a very rich clinical exposure.
There was never a dearth of patients as they always visited in large numbers with long queues outside every clinic. There was clinics for every department, Organon, Materia Medica, Repertory, OG, Surgery, Practice of Medicine and every one of them would overflow with patients. Organon & MM are purely Homeopathic subjects.
There was a Pain & palliative care unit where terminally ill patients came to be free of the cancer pain with Homeopathic remedies and perhaps, also to have a peaceful death.
Internship at the college Hospital:-
Working a night shift as an intern was never without apprehension as the intern could be the first Doctor on duty to confirm a death. The evening clinic too, as an intern was a fulfilling experience with opportunities for C&D (cleaning and dressing) of wounds and good prescriptions. The best part for me was the heartfelt gratitude from the patients.
Rural internship:-
After 6 months of internship in the College hospital, I chose to do my rural internship in the villages of Palakkad, where my parents hail from. I recall my time as a rural intern as a very enriching experience because most of the time, I would be the only resident Doctor in the dispensary. I could see the result of my prescriptions then and there. I was totally humbled by the gratitude of the local people who showered a lot of love on their rural Doctor.
Private practice as a fresh BHMS graduate:
Returning to Trichy, TN after completing my BHMS degree, I was extremely motivated and enthusiastic to start my private practice as soon as possible. The practice was called the "Homeopathic Speciality Clinic" and was located in Thiruverumbur, in the close vicinity of BHEL. The practice lasted 5 years.
Marriage & moving to the UK:
As the story goes, I got married to Manoj Manickan who worked in hospitality in the UK. This began a new and challenging chapter in my life.
After moving to the UK, I soon began my hunt for a job. However, all my initial applications to homeopathic jobs were returned with a polite reply saying there were no vacancies. In total contrast to the situation in India, there were very few openings for Homeopathy in London. Private practice was not option for me at that time. I soon understood the bitter truth that the mainstream support for Homeopathy in the UK was almost minimal or non-existent.
Working in the NHS:
In the UK, I took up a non-qualified job of working in a secure setting with patients having diagnoses of personality disorder and other mental health issues. While I worked at the extremely challenging setup, I realised I had somehow lost the confidence to practice homeopathy. I eventually joined the Allen College of Homeopathy, Chelmsford. The latter was run by Dr.Subrata K.Banerjea, who has a homeopathic lineage from the city of Calcutta.
The Post-Graduate Diploma was a modular course. I completed it in two years while I worked full-time.
Experience as a Homoeopath in the UK:
I secured my first job as a Homeopath at the Organic Pharmacy, London. I worked in their consulting rooms as a Homeopath. Moreover, I also did retail services at their pharmacies in High Street Kensington, Hampstead & Kings road, London.
I then went part time and also worked for Ainsworths Homeopathic Pharmacy, London. Ainsworths is a company with a lot of good will, a great legacy, innumerable and staunch homeopathy lovers as its customers. Ainsworths pharmacy is a very old Homeopathic Pharmacy. They prepare their own remedies. They also supply the royal family and hold the royal warrants.
Currently, I am registered as a private practitioner with the Alliance of Registered Homeopaths(ARH). Details of my registration can be found here.
My seek to be able to practice Homeopathy with more clarity & conviction got me connected to the Predictive Homeopathy family. It was founded by the great teacher and Physician, the late.Dr.Prafull Vijayakar . I completed the SCPH online course in Homeopathy in 2018.
Beliefs & Hobbies:
I, Sajini Ponmala believe in God, the Almighty/Krishna for me, the Universe. Undoubtedly, I have always been like that, maybe more clarity has come with age. In contrast, my father was a non-believer in God. I am grateful that I was brought up in an environment that encouraged free thinking from the very beginning.
I am thankful that life has taught me to look at every problem as an opportunity to learn something from it. I have learnt to look at the possibilities to grow rather than blame situations or the people in my life. I believe that there is a solution to every challenge. We just have to figure that out.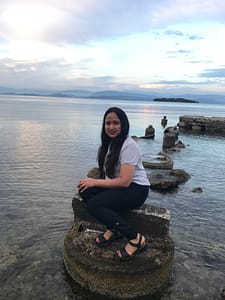 I know I haven't found my passions fully yet and that I am in the process of discovering myself.
Gratitude for this and more to come.. :-
I now live with my family away from London in a quiet & serene community with a lot of greenery, lakes, ducks & swans.
I love the smell of freshly cut grass when I mow my garden. I enjoy swimming in the local pool. I like to say I am adventurous.
I recall canoeing on River Thames with the enthusiastic, young & helpful members of the Chiswick canoe club several Sundays a few years back. That was surely an exhilarating experience. I would love to do more.
I enjoy travelling with family and seeing new places.
My family will always be that something I am always grateful for.
So the journey continues..
"This or something even better still"